Why did we create the monthly awards:
We wanted a varied choice from different locations around the city, so for example chose The Copper Room in April for the basement element to show just what incredible potential so many of the city's neglected basements have, and similarly Tom Collins in October for showing just how pretty a back street alleyway can look with a bit of TLC. Again, the award in March went to Frances Twomey's Solicitors offices as a perfect example of just how impressive Limerick's wonderful Georgian buildings can look when maintained so lovingly.
Another award, in fact our first way back in January 2014, went to the wonderfully eclectic Lucky Lane, for completely transforming what was a rundown laneway and also for selling recycled and second hand goods, which is very much in keeping with the sustainability element of the Tidy Towns ethos.
Other awards went not necessarily to premises alone but to individuals who we felt deserved recognition for their hard work. For example the staff of Chicken Hut who won the award back in February 2014, as we rarely passed during our clean ups without seeing a member of staff outside with a sweeping brush or a cloth. Also Fergusons who won the award in August were chosen as they had been so generous in allowing us to use their vacant premises at the corner of O'Connell Street and Thomas Street to display our Georgian Doors paintings project for the City of Culture, while at the same time showing that vacant premises don't have to be simply left to stand idly by, but can be of benefit to the community.
St Joseph's Church Gardens were chosen in May not only as a fine example of a beautiful urban garden but to recognise the work that goes in by all the community there in keeping it so, particularly the members of the South Limerick Residents Association – this was a combined award to property and people!
One of our favourite stories of how a winner was chosen was when we were cleaning Upper William Street the week before the arrival of Giant Granny, when we bumped into Miriam O'Neill outside her lovely fruit & veg shop C. O'Neill's. Not only was the property looking great, but Miriam's enthusiasm for keeping it so was clear for all to see and the three of us who chatted with her that evening were all unanimous in deciding that they definitely deserved the September Award.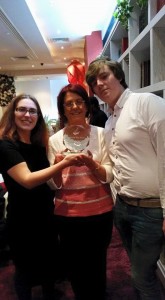 A great addition to the Limerick streetscape, especially in an area that needed that shot in the arm, Hook and Ladder were chosen in June as quite simply, you could not get a finer example of the potential so many of our fine old neglected buildings have to revitalise an area when renovated to such a high standard.
Limerick looked so beautiful at Christmastime (I think you'll all agree!) that we gave the December award to the city in general, which means our final official award of 2014 went to Kleiser's Pianos in November, a beautifully maintained old Limerick shop which has stood the test of time as we wanted to show that while it is important to embrace and encourage the new, it is also vital to maintain and be proud of our traditional buildings and shop frontages.
So there you have it, a brief rundown of all our winners for 2014.
Given the wide variety and the fact that we simply couldn't choose from our 11 worthy winners, we put it to a public vote and let the people of Limerick choose via social media and we are delighted to announce that the overall winner from our monthly award winners in 2014 is:
C O'Neill's Fruit and Veg, Upper William Street.