Lucky Lane was chosen as the first winner of the Limerick Tidy Town Monthly Award 2014 for transforming what used to be a run-down laneway into a vibrant and attractive feature of Catherine Street. Their second hand goods product line is also very much in line with the Tidy Towns' message of recycling and re-using and is definitely worth a visit.
For further details on Lucky Lane please drop by – they are located opposite the Sage Café on Catherine Street or visit their website luckylane.info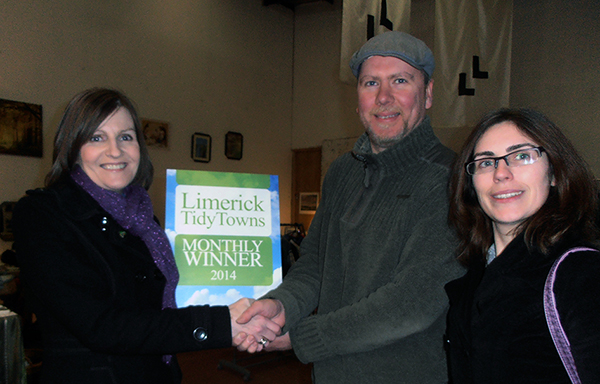 David Irwin from Lucky Lane being presented with the first Limerick Tidy Town's monthly award for January by Maura O'Neill and Sharon Slater of Limerick Tidy Towns.
Limerick Tidy Town will be selecting a new winner each month during 2014, with an overall winner to be announced at the end of the year. To be in with a chance to win, businesses and individuals simply need make a special effort to improve the city's appearance. Even the smallest effort like cleaning a basement may be recognised and merit the award. This is your chance to not only help the Tidy Towns effort but also to improve your city.
You can find out more about Limerick Tidy Town on Facebook and Twitter