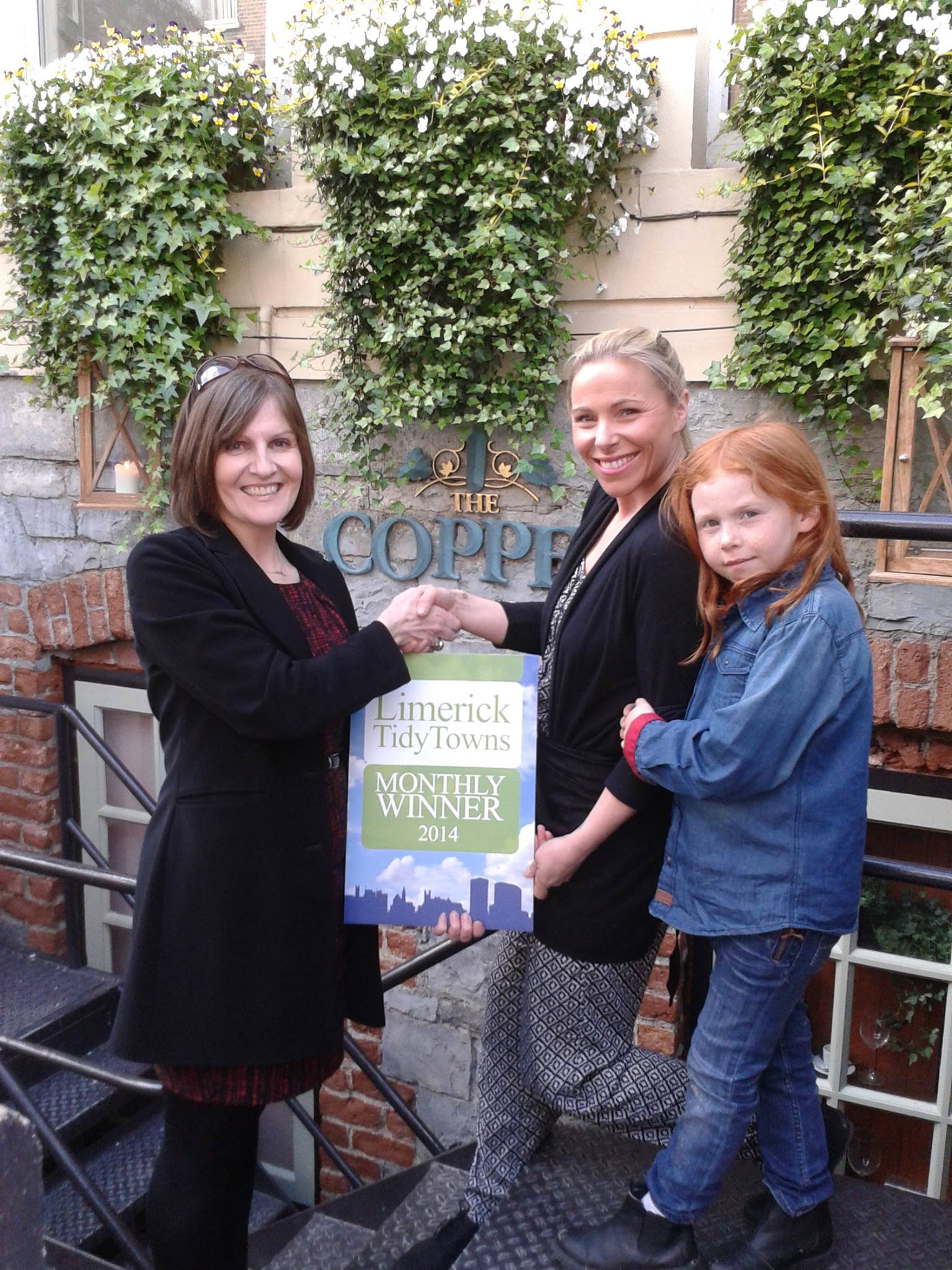 Congratulations to The Copper Room on winning the Limerick Tidy Towns Monthly Award for April. Pictured on the steps of their beautifully refurbished wine bar at the basement of 100 O'Connell Street are Jenny Coll and her lovely daughter Millie being presented with the Award by Maura.The Copper Room which is on the site of what formed part of the original Roches Hanging Gardens was chosen as a
n example of how Limerick's basement properties can be transformed and utilised to their fullest potential. Its copper lined arches which go beneath O'Connell Street are full of character and have a unique ambience and warmth. Their wines, ports and cheeses are wonderful too! For further information do call in, visit their website www.thecopperroom.ie or call 061 211000 for reservations.
The Limerick Tidy Towns team have consistently found that basement properties are a real challenge, mainly due to the difficulties of gaining access to clean them which as a result leaves many of them littered and unkempt and therefore a major blight on both the city and the Tidy Towns effort. We hope that by highlighting just how wonderful these basements can look it may encourage other basement owners to do their bit and simply maintain their own premises or indeed to contact Limerick Tidy Towns to arrange for a team of volunteers to access your basement to clean it if required. Our email address is limericktidytowns@gmail.co
m.
The Copper Room is the fourth monthly winner of the Limerick Tidy Towns award, with winners so far for 2014 being Lucky Lane for January, Chicken Hut for February and Frances Twomey & Co Solicitors for March. An overall winner will be chosen from the 12 monthly winners at the end of the year.