Congratulations to Peter and Margaret Ferguson who, as a mark of gratitude for very generously allowing their vacant former pharmacy premises at the corner of O'Connell Street and Thomas Street to be used to display the Tidy Towns Georgian doors painting project, have won the Limerick Tidy Towns monthly award for August. Peter and Margaret are pictured being presented with the award by Maura from Tidy Towns.
The former Fergusons chemist is in a prime city centre location, so therefore ideal for displaying our paintings project which was done as a tribute to Georgian Limerick to mark the City of Culture year, and Peter and Margaret very kindly let us use the space free of charge for the entire summer. Special thanks is also given to Cora Heelan who was a huge help in putting the display in place. The former Fergusons Pharmacy is a perfect example of how vacant shop units can be used to their fullest potential and remain an attractive focal point in the city centre. Aside from the paintings project, Fergusons' windows are always full of attractive eye-catching displays, which is exactly what Tidy Towns strives for where premises are vacant.
Tidy Towns are not the only entity to have benefited from Fergusons' generosity as many charities such as Pieta House for their Darkness Into Light event and cultural organisations such as Elemental have used the premises in the past, thereby raising much needed funds. Again, a great example to owners of other vacant premises in the city centre in how they could help the community as a whole.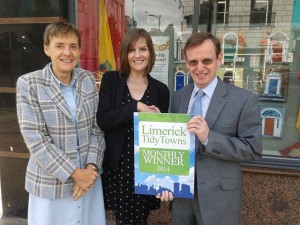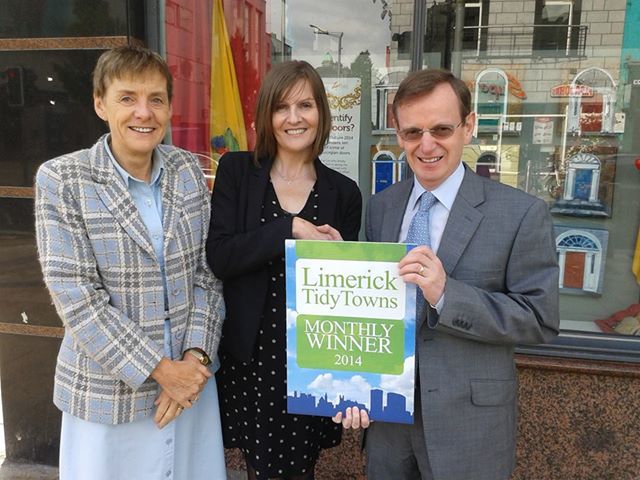 Fergusons family run hearing aid audiology clinic is located at 61 Catherine Street, Limerick, and Peter won the prestigious Audiologist of the Year Award in 2013. For appointments or to get further details, they can be contacted by phone on 061 313633, email on info@ferghac.ie or visit their website at www.fergusonshearingaidclinic.ie.
Mainly due to the prominence of the location, one of the paintings has already been sold and Tidy Towns are considering bids on a number of the others, so if you are interested in bidding for one of these lovely original oil paintings, please call 087 272 1058, email limericktidytowns@gmail.com or message us on here. They're well worth a look next time you're passing Fergusons.
Fergusons are the eighth monthly winner of the Limerick Tidy Towns award, with winners so far for 2014 being Lucky Lane for January, Chicken Hut for February, Frances Twomey & Co Solicitors for March, The Copper Room for April, St Joseph's Church grounds in May, Hook & Ladder in June and Cellar Door in July. An overall winner will be chosen from the 12 monthly winners at the end of the year. To be in with a chance to win, businesses or private individuals simply need make a special effort to improve the city's appearance.