Congratulations to Kleiser Pianos at 24 Thomas Street for being chosen as the Limerick Tidy Towns monthly award winner for November. The owner, Karl Kleiser, is pictured outside the premises being presented with the award by Sharon.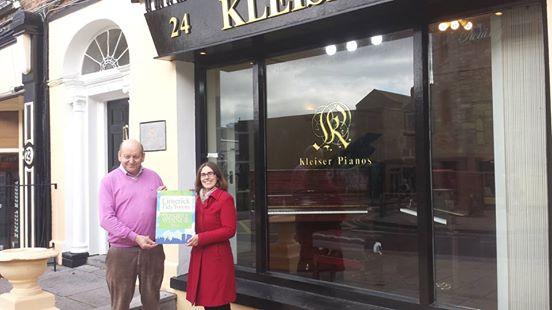 Members of the Tidy Town team have commented on more than one occasion during their clean ups on how attractive Kleiser's shop frontage is with its striking gold-leaf signage and impeccable paintwork, particularly on their entrance which is a perfect example of a beautifully maintained Limerick Georgian door. It is an eye-catching property and a great example of how traditional style retail units can be such an asset to the city's overall appearance when treated with such care and pride.
Kleiser Pianos were first established in 1902 and are a recognised part of Limerick's retail history. They have a wide range of pianos in store and are dedicated to providing customers with a premium product, as well as offering services such as piano tuning, reconditioning, delivery/removal and piano hire. They consider pianos to be a work of art and the exterior of their shop certainly does reflect this. Please do drop in to them at 24 Thomas Street or call 061 416665.