The first Limerick City Tidy Towns monthly award for 2018 has gone to St Michael's Rowing Club on O'Callaghan's Strand. Pictured inside the club being presented with the award by Maura are Brian Richardson, Club Captain and Alice McKeown, Club Member. (Photo: Sophie Goodwin/ILoveLimerick)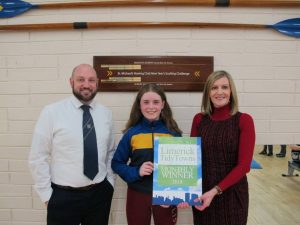 Since our monthly awards first started back in January 2014, we have mainly given them to businesses such as retail outlets, pubs and offices in the city centre, so are delighted to have a sports club as a monthly winner, particularly one with such huge links to the river, which is obviously an integral part of the appearance of our lovely city. We were particularly impressed with St Michaels' new slipway which is a great addition to the riverscape, and obviously adds to the activity on the river. The clubhouse exterior is also tidy and well maintained, and it is a great asset to the O' Callaghan Strand area of the city.
Founded in 1901, St Michael's Rowing Club is one of Ireland's Premier Rowing Club, and caters for oarsmen and oarswomen from Junior 12 to the more experienced "Masters", with members of all ages. During the past three decades, the club has established itself as one of the major forces in Irish rowing by winning no less than 37 championships of all grades from Junior to Senior. In 2007, the club won the covered Senior VIII "Big Pot" and became the first crew to bring the trophy to Limerick in 80 years. Throughout the years, it has had members selected for international competitions including World Championships and Olympic Regattas, but the club is also proud of its non-competitive and less strenuous pleasure-rowing which takes place throughout the year. New members are always welcome, both beginners and experienced, so please contact the captain at smrccaptain@gmail.com or call 061 325 264.
As Limerick City Tidy Towns monthly winner for January, St Michael's Rowing Club is their first winner for 2018 and will be in with the chance of winning this year's overall prize at their annual event to be held early in 2019. The overall winner for 2017 has already been selected by an online poll, and all winners will shortly be invited to Limerick Tidy Towns 2018 event where the winner will be announced and prize awarded.