The Limerick City Tidy Towns monthly award for February 2018 has gone to Foot Solutions Limerickat No 2 O'Connell Street, following the recent overhaul and redecoration of their shop frontage, which has greatly enhanced the property. Pictured outside the shop being presented with the award by Maura is Ellen O'Donoghue, Store Manager (Photo: Sophie Goodwin/ILoveLimerick)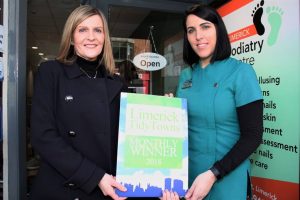 It is particularly nice to present awards to long established businesses who give their premises a facelift, and the newly decorated Foot Solutions unit is a great example of how a premises can be totally transformed by striking new signage and paintwork. All of the Tidy Towns team have remarked on the beautiful new frontage, particularly given the unit's very prominent location at the heart of Limerick's retail district. It is greatly encouraging to see city centre businesses invest in the appearance of their properties in this way, and we are delighted to acknowledge Foot Solutions for this.
Foot Solutions offer a wealth of knowledge and years of experience in foot and gait biomechanics, and their certified staff complete extensive coursework and training in the field of Pedorthics, Neuromuscular Therapy and Podiatry. Their aim is to reduce, eliminate and prevent pain and trauma in load-bearing joints and thereby to improve body alignment, balance and posture. Their experts are trained in foot and gait biomechanics, shoe construction, the fitting of arch supports and the appropriate care for all types of feet. The store is a comfortable place to relax and allow the experts to fully assess customer's feet and gait, and their friendly, specialised staff are only too happy to give customers the benefit of their expertise and advice on suitable support and products. Please call by or contact them to make an appointment on 061 404849 or to book an appointment for Podiatry/Chiropody treatment call 061 404942.
Foot Solutions is Limerick City Tidy Towns' second monthly winner for 2018, following St Michael's Rowing Club in January, and will be in with the chance of winning this year's overall prize at their annual event to be held early in 2019. The overall winner for 2017 will be announced at the annual Tidy Towns event to take place on Thursday 1st March at 6pm at The Hunt Museum Café, and all monthly winners, previous overall winners and volunteers are invited to attend.