The final Limerick City Tidy Towns monthly award of 2018 for November and December has gone to Keanes Jewellers, for their beautifully decorated shop at the corner of O'Connell Street and William Street. Pictured at the premises being presented with the award by Maura is Store Manager Aidan Lyddy (Photo: Baoyan Zhang/I Love Limerick).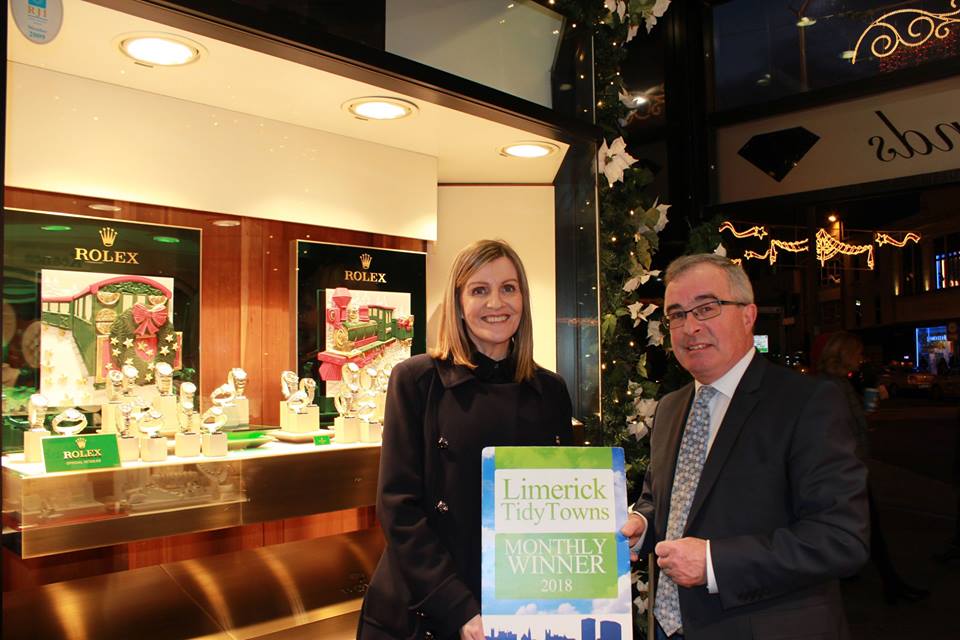 Given we are in midst of the festive season, the Limerick City Tidy Towns' final monthly award of the year is aimed at businesses with the most beautiful and striking Christmas lights and decorations. For many years Keanes' shop frontage has been one of the most attractive in the city and adds greatly to the wonderful appearance of the heart of Limerick's retail district at Christmastime, especially given their very prominent corner location at the junction of William Street and O'Connell Street. Even at other times of year, it is a beautifully maintained attractive building, so this award is fully-deserved and we are delighted to acknowledge the effort they make.
Keanes Jewellers are this year celebrating their 70th anniversary, having started out as a watch and clock repair shop in Cork back in 1948. This was the start of a family business that has become synonymous with fine jewellers in Ireland, offering outstanding craftmanship, service and reasonable prices. Together with their flagship store in Cork, Keanes also now have our award-winning shop in Limerick city and also Killarney. Their employees have been trained to the highest standards, displaying great expertise in their relevant areas, particularly when it comes to diamonds. All their diamonds are ethically sourced and priced to reflect quality, all year round, and the option to speak to one of their experts about designing customers' own bespoke rings is also available. For more information call them on 061 481080, visit their website www.keanes.ie, email limerick@keanes.ie, or simply drop in.
Keanes Jewellers is Limerick City Tidy Towns' eleventh and final monthly winner for 2018, following St Michael's Rowing Club in January, Foot Solutions in February, La Fromagerie in March, Portleys Bar in April, Be Your True Self in May, Jack Mondays Coffee House in June, the Limerick City Council Parks Department in July, Flanagans Town House in August, Noonan Dental Care in September and The Life Centre in October, and all are in with the chance of winning this year's overall prize at the Tidy Towns Group's annual event to be held early in 2019.
Our online poll to choose the 2018 overall winner will be going live very soon so watch this space!