The first Limerick City Tidy Towns monthly award for 2019 has been presented to the newly opened MINT Boutique on Little Ellen Street. Pictured outside the shop being presented with the award by Maura are owners Michelle Loftus and Jean Sheahan.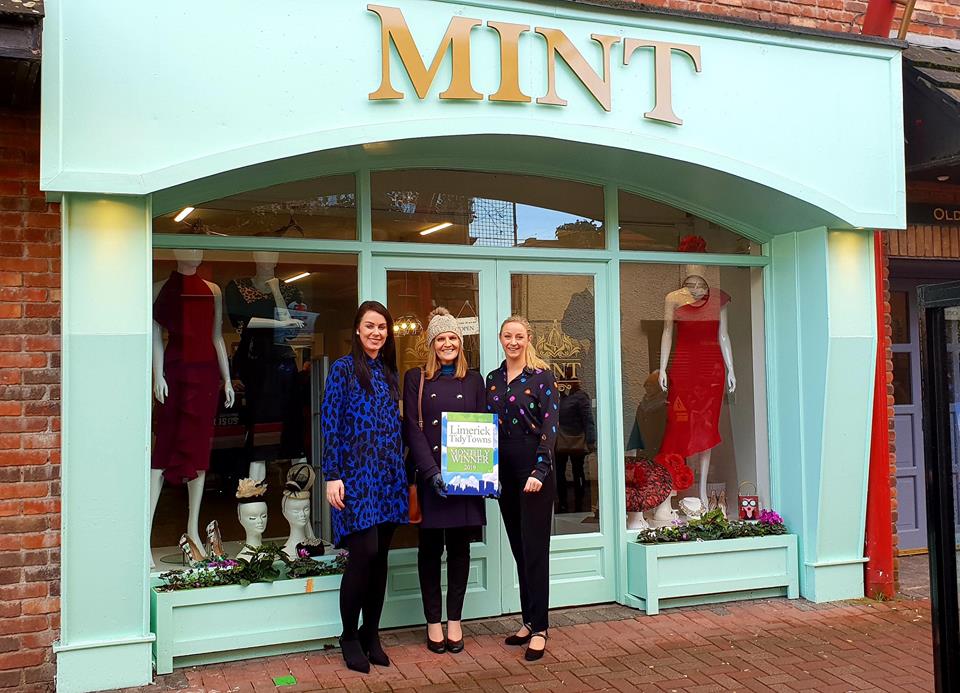 It is always a joy for our volunteers to see previously empty and neglected premises brought back to life by new occupants, and Michelle and Jean have achieved this perfectly with their beautiful new boutique. From their quality signage, striking mint coloured paintwork, exterior flower boxes and highly attractive window displays, it is clear that the outward appearance of this new boutique is as important to its owners as the quality of the products they sell. They have created a luxurious yet relaxing shopping environment which has highlighted the potential of this very attractive pedestrianised little street, especially given its link between the city's retail centre and the Milkmarket area.
Owned by Michelle Loftus and Jean Sheahan, Mint Boutique opened its doors in November 2018 but while it may be a newcomer to the retail fashion scene in Limerick, its reputation is growing quickly, mainly due to word of mouth and its very active online presence which has attracted many new customers, particularly following recent mentions by prominent figures such as Aoibhin Garrihy. Michelle and Jean wanted a store that would provide the ladies of Limerick a mix of styles at affordable prices, catering for occasion wear, glam nights out on the town and stylish comfy casuals. They have recently expanded their store to include hats for hire by Graceful. Mint's website which will include an online shop is currently under production, but in the meantime they can be found on Facebook and Instagram via @mintboutiquelimerick, you can call them on 087-3436658 or simply drop in to the shop at Little Ellen Street.
As Limerick City Tidy Towns monthly winner for January, Mint Boutique is our first winner for 2019 and will be in with the chance of winning this year's overall prize at our annual event to be held early in 2020. The overall winner for 2018 has already been selected by an online poll, and all monthly winners will shortly be invited to Limerick Tidy Towns annual event where the winner will be announced and prize awarded, so watch this space!