The Limerick City Tidy Towns monthly award for August has been presented for the first time ever to joint winners and to neighbours, being Flannery's Bar and Hanley's Chemist at Nos 19 and 20 Shannon Street respectively.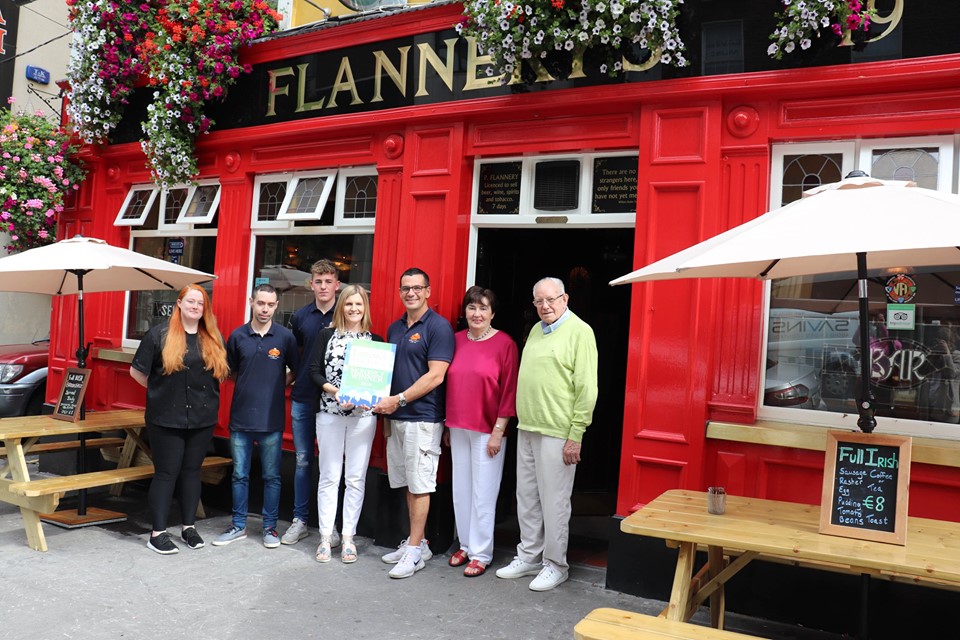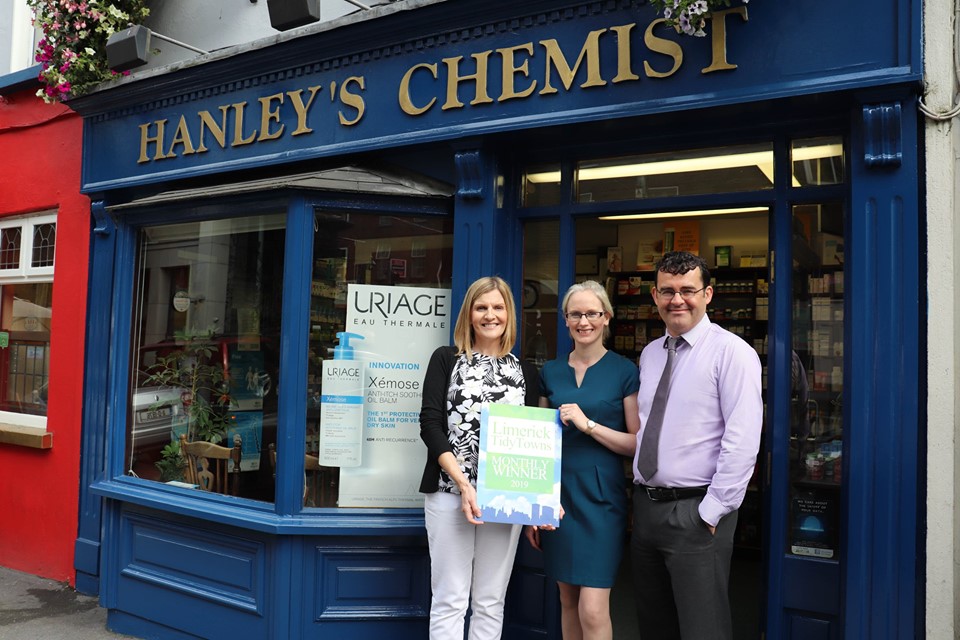 As we try to distribute our monthly awards as widely as possible to all parts of the city, we don't usually give more than one award on any one street in a year but we were so impressed with the recent overhaul and exterior painting of these two long-standing neighbouring businesses on Shannon Street, that we simply couldn't choose between them so for the first time ever we are giving a joint monthly award. While both premises have always looked well and maintained their exteriors to a very high standard, the beautiful new paint work and floral arrangements have elevated that even further and they are now vibrant and striking, whilst still retaining their traditional signage and appeal. So often, one neighbouring business can spoil the efforts of another, but in this case, they beautifully complement each other and are a huge asset to Shannon Street in the heart of the city centre.
Flannerys Bar, Shannon St, Limerick'is often described as one of Limerick's best kept secrets and in 2015 celebrated 50 years in business. The establishment prides itself on its level of friendly customer service and the loyal customer base it has developed over the years, maintaining a feeling of a local pub in the heart of the city centre. The pub was established in 1965 by Phil Flannery, one of six brothers who have dedicated years of service in the pub trade in Limerick and is now in the hands of Phil's son Paul who took over the running of the Shannon Street pub in 2008. It is a perfect venue for breakfast, lunch, evening drinks, private parties or Munster rugby days and can be contacted on 061 415027.
Hanley's Chemist was first established over 60 years ago by Michael Hanley and taken over by Lorcan and Aine Brady in early 2019. It is is a family run dispensing chemist and pharmacy in the heart of Limerick city with a loyal and long-standing customer base, offering prescription dispensing, repeat prescriptions, medication management, blister packing compliance aids and a low-cost generics price plan which can significantly reduce customers' medication bills. For more information or advice, simply drop in or call them on 061 415409.
Flannery's Bar and Hanley's Chemist, our first joint winners, are Limerick City Tidy Towns' eighth winner for 2019, following Mint Boutique in January, Bakehouse 22 in February, Midwest Lighting in March, The Glen Tavern in April, Alexandra Dental Clinic in May, Thai Angel Massage in June and Abbey River Coffee in July, and all monthly winners will be in with the chance of winning this year's overall prize at our annual event to be held early in 2020.