The Limerick Tidy Towns monthly award for February 2015 has gone to Thomas Street Framing Centre, and pictured is the owner Donal O'Mahoney being presented with the award outside their premises by Maura. We chose Thomas Street Framing Centre this month, not only because it is a perfect example of how we would wish all our basement premises to look, with its bright new signage, impeccable paintwork and pretty hanging baskets, but also because Donie and Denis were a great help to us in displaying our Limerick Georgian Doors paintings in the former Fergusons window last year for Limerick City of Culture. It was a great example of a local Limerick city business helping its community, and it is only right that they got some recognition for that as well as credit for maintaining their own property so beautifully. Neglected basement properties continue to be a major headache for the Tidy Towns effort, but happily these are becoming fewer as many problem basements are being occupied and cleaned, and we hope that by choosing Thomas Street Framing Centre we can highlight just what potential these type of premises have when properly maintained.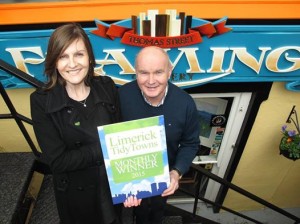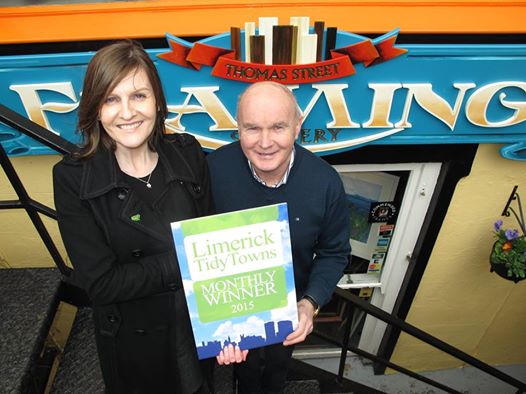 Thomas Street Framing Centre do all their framing in-house, and every frame is designed by them to suit their customers' individual tastes. Donal who owns the business and Denis McInerney who works for him have over 50 years framing experience between them and take great pride in the quality of the work they produce, which shows in their end product. They have a huge variety of frames for customers to choose from and are well worth a visit at their premises at 12/13 Thomas Street, or you can call them on 061 410199 or visit their website www.framingcentre.ie.
Thomas Street Framing Centre is the second Limerick Tidy Towns monthly award winner for 2015, with The Stormy Teacup having won in January. An overall winner will also be chosen at the end of the year and previous winners from 2014 are eligible to win again in 2015 simply by keeping up the good work. The overall winner for 2014 has been chosen and we will announce this as soon as arrangements can be made for an awards ceremony.