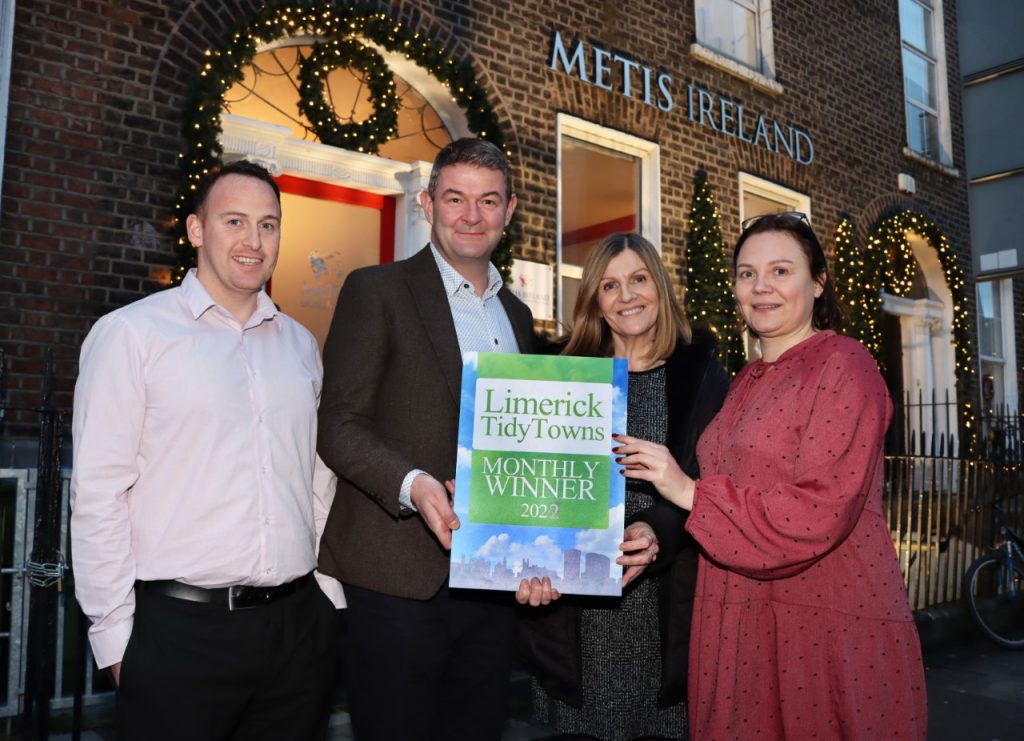 Our double monthly award for November-December and final one for the year has been presented to joint winners and neighbours Metis Ireland and Limerick City College at 88 and 89 O'Connell Street respectively for their beautiful Christmas lights. Pictured outside the buildings receiving the awards from Maura are Ronan Queally, Carl Widger and Kasia Preising from Metis Life and Glen Anderson, Director of Limerick City College (Photos: Adrian Butler/Limerick Leader)
Given that we're fast approaching the Christmas season, we traditionally present a double monthly award for November-December, with a focus on exterior Christmas lighting and decoration. We also always like to try to include a Georgian Building as one of our monthly winners as they are such an important part of Limerick's built heritage and we are therefore delighted that our joint winners Metis Ireland and Limerick City College at 88 and 89 O'Connell Street tick both of those boxes, as their Georgian exteriors, doors, windows and steps which are perfectly maintained all year round are now enhanced by beautiful matching Christmas lights provided by Time4Lights, which are very much in keeping with the traditional buildings.
Metis Ireland specialises in honest, experienced financial planning and pension advice. Their team are passionate about helping their clients arrange their finances to achieve the lifestyle they desire, both before and after retirement. Founded in 2014 and headed up by industry veteran Carl Widger, the company moved into their beautiful Limerick HQ on O'Connell Street in early 2021 following a tasteful interior renovation by local designer Tess Stanford, who made excellent use of the building's original Georgian features. If you'd like to get in touch with the Metis Ireland team, you can do so either by email at info@metisireland.ie or by telephone on 061 9081500.
Limerick City College is an internationally renowned language school that was established in 2010. It is a modern vibrant college which focuses on ensuring that quality academic and English programmes are accessible and affordable to all students. The English Language School at Limerick City College enables students to study and prepare towards achieving internationally acclaimed University of Cambridge ESOL Examinations and IELTS. The extensive experience and expertise of the staff involved in the delivery and maintenance of the programmes ensures the highest standards of academic quality for the students. In addition, being located within a five storey Georgian building in the heart of Limerick City Centre provides stunning facilities for all students. The College Director states that: "We are proud of our achievements to date and more importantly the fact that we are able to provide these quality programmes and facilities attracting more international students to Limerick". For more details regarding Limerick City College and/or any of the programmes offered please visit www.limerickcc.ie or call 061-592195.