The Limerick Tidy Towns monthly award for August has gone to The Curragower Seafood Bar on Clancy's Strand for its consistency in maintaining a most attractive frontage, particularly given its unique location on the banks of the River Shannon, in the heart of Limerick's Medieval Quarter.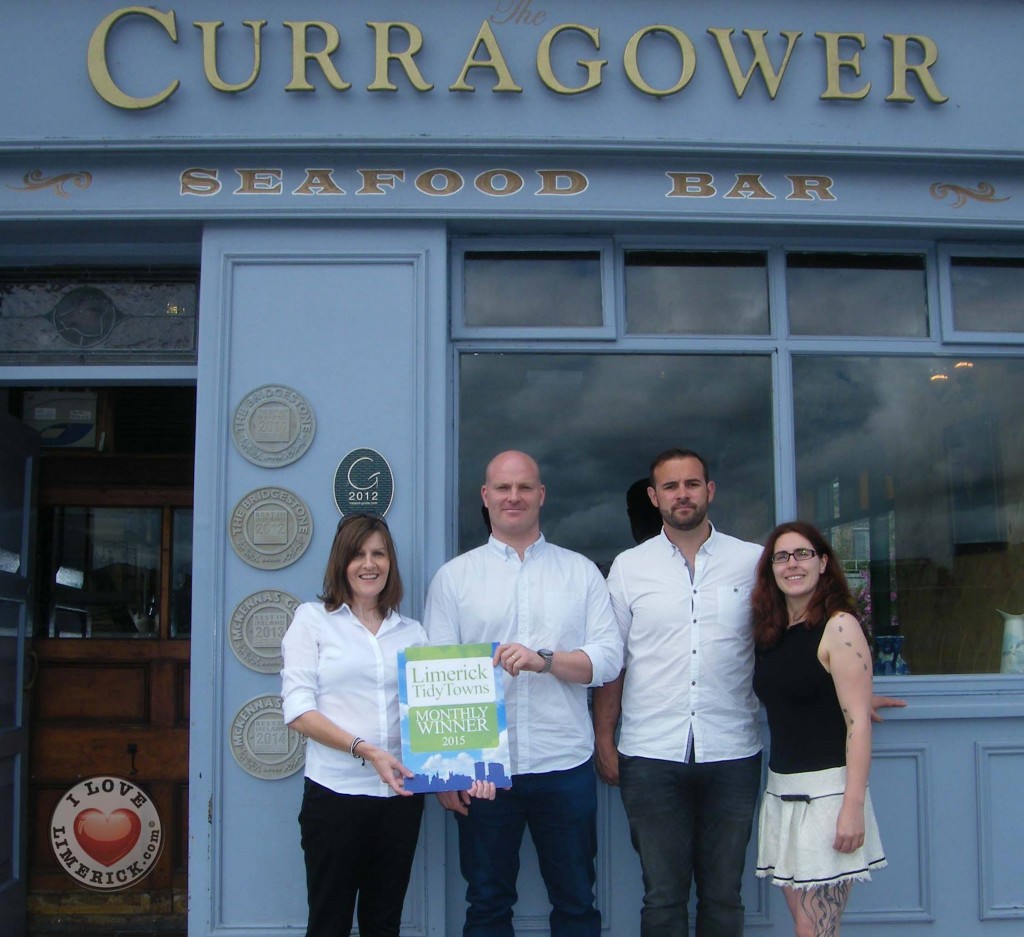 Our monthly awards have gone to a number of properties and businesses in the city centre, but we were keen to show an example of a property in the Medieval Quarter which embraces its unique location and uses its proximity to the Shannon to its full advantage. The Curragower is a perfect example of a beautiful historic building maintained to the highest standards with impeccable paintwork and floral arrangements whilst still maintaining its unique features. The high standards also carry through to its quirky interior which is full of character, and the outside seating area has also recently been refurbished, making it an even more attractive location for locals and tourists alike to visit to see Limerick at its best.
The Curragower is a well-known landmark in Limerick and is believed to be one of the city's oldest bars with some historians citing its establishment as far back as the 1700s, originally serving as a sibhin for local farmers and fishermen alike. It is also renowned for the quality of its food and takes particular pride in serving seasonally fresh and locally sourced ingredients. You could not find a better location in Limerick city to relax with a drink or some of The Curragower's award winning food, and take in the spectacular views of King John's Castle and the majestic Shannon. It's also renowned for its festival atmosphere before and after Munster matches and the perfect stopover for rugby fans on the way to and from Thomond Park. For more information call 061 321788, visit their website www.curragower.com or simply drop in.
The Curragower is the eighth recipient of Limerick Tidy Towns' monthly awards for 2015, with The Stormy Teacup having won in January, Thomas Street Framing Centre in February, Bobby Byrne's in March, Parnell Plaza in April, Combu b in May, Figaro Barber Shop in June and Limerick Youth Service in July. An overall winner will also be chosen at the end of the year and if members of the public wish to suggest future monthly winners which they feel merit the award, please do let the Tidy Towns team know. Limerick Tidy Towns would also like thank Fran Fitzgerald of I Love Limerick for taking the photographs for this and all of their monthly awards.