The final Limerick City Tidy Towns monthly award for 2019 has been presented to ALEX FINDLATER & COMPANY LTD for the beautiful exterior Christmas décor at their O'Connell Street premises. Pictured outside the property being presented with the award by Maura are Patrina Meskell, Savoy Hotel, Anne Branigan, owner, and staff members Klaudia Skrzyniarz, Lais Miyadaira and Ewa Mazur . (Photo: Kate Devaney/ILoveLimerick).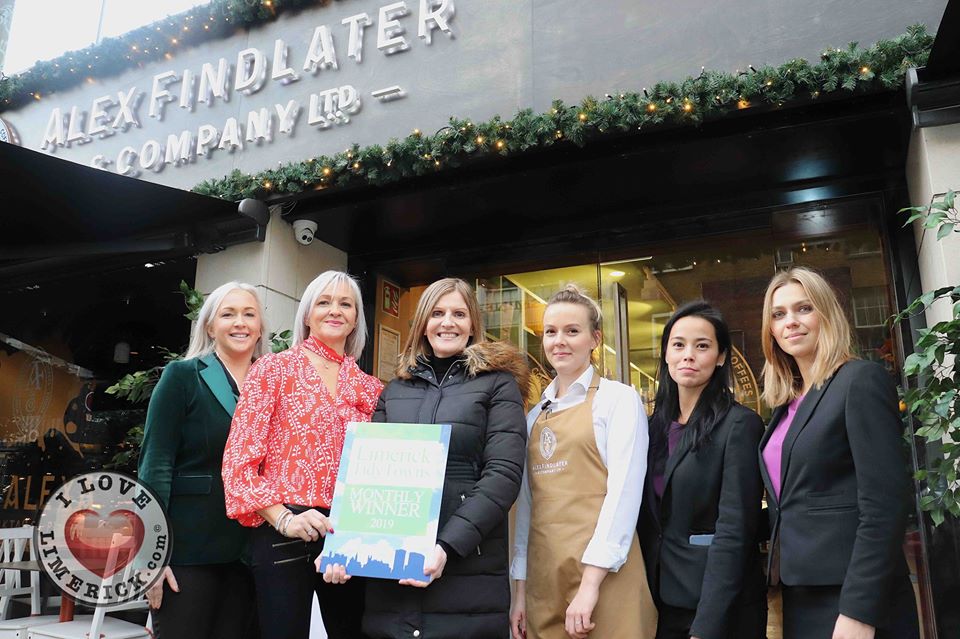 Given that our November-December award is now traditionally given for Christmas frontages, we simply couldn't overlook Alex Findlater & Co, who together with designers Time4Lights, have managed to perfectly combine warm traditional welcoming Christmas lights and décor with a thoroughly modern and contemporary feel. Since opening in March 2018, Alex Findlater & Co has been a huge asset to the city's main thoroughfare, bringing a high-quality offering which was much needed in such a prominent location, covering an impressive 18,000 sq ft on the ground floor of the George Hotel. Of course, while this award is particularly for their Christmas decor, we are also delighted with how consistently well the property looks all year round, with beautiful signage and impeccably clean windows and paintwork.
Alex Findlater & Co's Food & Wine Hall is part of the Savoy Group and has proven to be an original and inspirational new resource for gourmet food and wine lovers who live in, work and visit Limerick city. The first outlet of its kind in the city, Alex Findlater & Co includes Bar Alexa, an upmarket food area, The Grill Room and a fantastic selection of over 300 wines from across the globe, showcased at the handsome purpose-built wine theatre. Its reputation has quickly grown and it is now one of the most fashionable places to dine in the city in the evening, whilst also offering a huge choice of lunch options as well as a high-quality coffee and patisserie section. It is simply a feast for the senses and not to be missed for anyone visiting the city this Christmas, or at any time of year. Alex Findlater & Co can be contacted on 061 516450, by email at info@alexfindlaterandco.ie or visit their website www.alexfindlaterandco.ie.
Alex Findlater & Co is Limerick City Tidy Towns' twelfth and final winner for 2019, following Mint Boutique in January, Bakehouse 22 in February, Midwest Lighting in March, The Glen Tavern in April, Alexandra Dental Clinic in May, Thai Angel Massage in June, Abbey River Coffee in July, joint winners Flannerys Bar and Hanleys Chemist in August, Pat O'Connor Butchers in September and McKeogh Gallagher Ryan in October, and all monthly winners will be in with the chance of winning this year's overall prize at our annual event to be held early in 2020. The online voting for this will soon be open to the public so watch this space and do remember to vote for your favourite!