Limerick Tidy Towns have presented their monthly award for October to O'Gorman Solicitors for their offices based in Munster House, a beautiful double-fronted Georgian building at the corner of 75a O'Connell Street and Hartstonge Street. Pictured outside the premises on what was unfortunately a very rainy day is the firm's founder and principal Daniel O'Gorman, along with Catriona Dwyane, Fionnuala McMahon and Georgina Beacon, being presented with the award by Maura of Limerick Tidy Towns.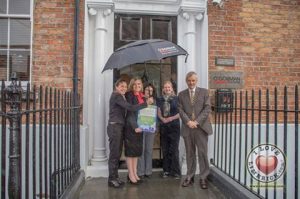 We try to make it a point of selecting a traditional Georgian building each year for one of our monthly awards, and for the third year in a row, the winner is a firm of Solicitors, so they really are putting a challenge down to other businesses based in Georgian Limerick! O'Gorman's was an easy choice this year as their magnificently restored building at the heart of Limerick city stands out due to its perfectly pointed brickwork, beautiful traditional sash windows and immaculate paintwork, which is particularly impressive given that it has frontages on both O'Connell Street and Hartstonge Street. It really is a perfect example of what these fine buildings have to offer when used to their full potential, and shows off Georgian Limerick at its best.
O'Gorman Solicitors was formed by Daniel O'Gorman in 1991 in association with Fionnuala McMahon, and their vastly experienced team of solicitors aim to provide expert legal advice and efficient service to both individuals and families, to business and industry, to charities and public bodies alike. They are focused on helping and professionally advising clients in what can often be tremendously difficult circumstances and they look upon their role as not simply Legal Advisors but rather as problem solvers. For more information on the services they offer, you can contact them on 061 418214, email solicitors@ogorman.ie or visit their website www.ogorman.ie
O'Gorman Solicitors is the tenth Limerick Tidy Towns monthly award winner for 2016, following Silverwood Jewellers in January, Rebecca Leahy Opticians in February, M&C Property in March, Ryans Jewellers in April, The Cauldron Bar in May, the Tritonville private garden in June, Salon 35 in July, Professional Nails in August and Bean a Ti in September. All monthly winners for 2016 will be in with the chance of winning this year's overall prize at our next annual event to be held early in 2017.
Limerick Tidy Towns would like to thank Cian Reinhardt of I Love Limerick for taking the photographs for this and all of their monthly awards.