Limerick City Tidy Towns' monthly award for April 2017 has gone to Billy Higgins Clothing, a long-established Limerick retailer based at 8 Sarsfield Street. Pictured inside the premises being presented with the award by Maura is Liam Higgins.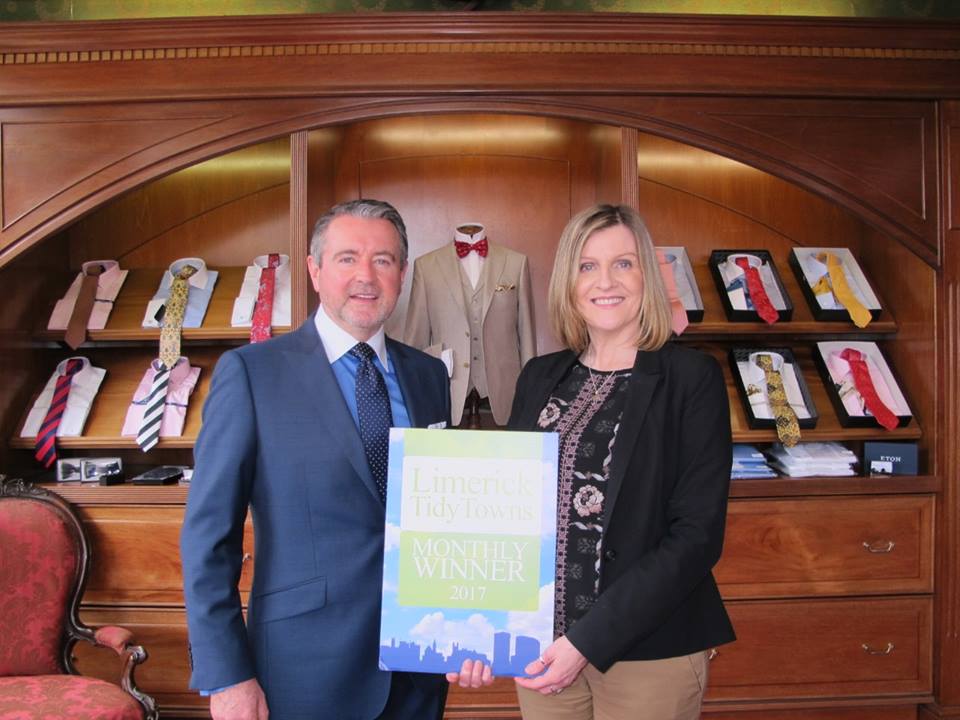 Quite often our awards go to newly renovated premises which greatly improve what were often empty or neglected spaces within the city centre, but we are delighted this month to present an award to a long-standing and highly respected name in Limerick retail circles for its consistently beautifully kept façade, striking exterior paintwork and traditional signage, especially given its very prominent location at the corner of Sarsfield Street and Henry Street. This month's award winner was also suggested to us by a member of the public and a visitor to the city, who commented on how well it has always looked during their many years of visiting Limerick, which is a great testament to the owners.
Billy Higgins Clothing was first established in 1956 and is now one of Limerick city's most recognisable landmark retail outlets for menswear and womenswear. Over the past 60 years they have exported clothing such as Cashmere and Donegal Handwoven Tweed to more than 60 countries worldwide. With regular clients from North America, Hawaii, Australia and Russia, they have continued to grow through often turbulent economic times due to their reputation for high-quality clothing, attention to detail and a loyal customer base. They offer a full made to measure tailoring service and dedicated knowledgeable staff renowned for their personal customer service. As well as their main shop in Sarsfield Street, Billy Higgins Clothing now also have a branch at Dromolond Castle. You can call them on 061 414996, email billy.higginslimerick@gmail.com, or simply drop in to either branch.
Billy Higgins Clothing is the fourth Limerick City Tidy Towns winner for 2017, following No 1 Pery Square in March, Casey's Londis Mount Kennett in February and Narrative 4 in January, and all monthly winners will be in with the chance of winning the overall prize for 2017 at the annual Tidy Towns event to be held early in 2018.
Limerick City Tidy Towns would like to thank Katie Glavin from I Love Limerick for taking the photographs for this and all of our monthly awards.